Assisted Living vs. Nursing Homes in Northeast Ohio: What's the Difference in Services and Cost?
When it's time to start looking for long-term care and senior living options it may feel like there are a million large and small decisions to make. Location, level of care needed, and preferred activities of daily living might be a few items on the top of your list of considerations. But what's the difference between assisted living and nursing homes? And how do you know which community is right for you or a loved one?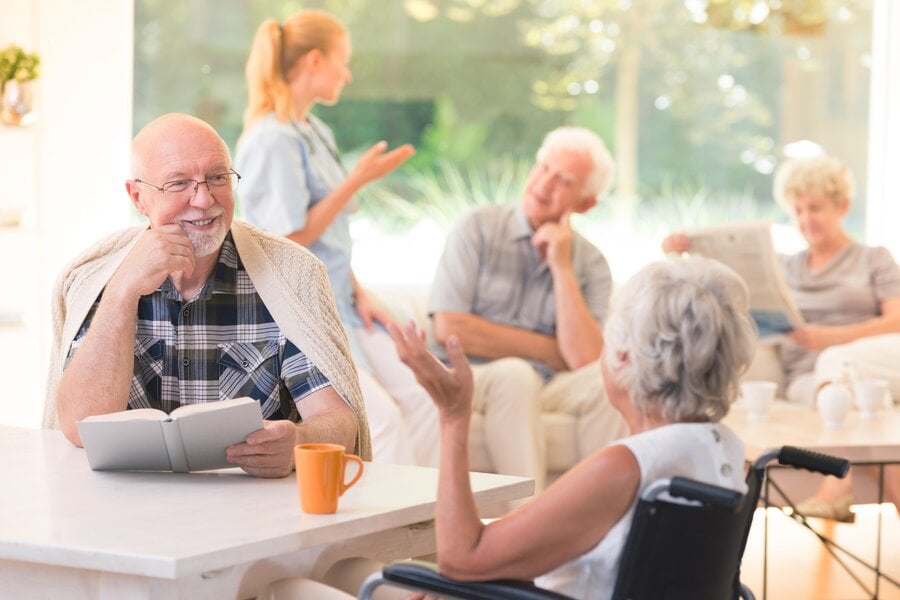 What Is the Difference Between a Nursing Home and an Assisted Living Facility?
Though commonly used interchangeably, assisted living and nursing homes provide vastly different services and different levels of care.
Assisted living communities support active, independent adults who may need personalized care and/or assistance with day-to-day living.
For seniors who are unable to care for themselves due to physical or medical conditions, nursing homes provide 24-hour supervision by trained healthcare providers.
What is the difference between long term care and assisted living?
People often wonder the differences between long-term care and assisted living. The phrases are somewhat similar, so you may see different senior living communities using them in interchangeably. However, long-term care encompasses assisted living, as well as residential care facilities or group homes, nursing homes or skilled nursing facilities, and continuing care retirement facilities. To lessen any confusion, we're going to stay focused on assisted living vs. nursing homes.
What Services Are Usually Included in Assisted Living?
Assisted living communities, like Generations Senior Living, provide unique services to promote the health and emotional needs of each resident.
Some common assisted living amenities include:
Three home-cooked meals a day with menus and diets approved by a registered dietician
Medication management by nursing staff
Individual nursing services within the comfort and privacy of a resident's suite
Social activities like day trips, game nights, happy hour, and exercise classes
On-site salon and barber services by licensed stylists for haircuts, perms, color and more
Personal laundry and housekeeping services
Short-term respite care to recover after a surgery or illness, or to decide if assisted living is right for you.
The transition from living alone to an assisted living community removes some of the most common day-to-day stresses on residents and their families. You can rest easy knowing your loved one is receiving three healthy meals each day and a qualified nurse is managing and administering their medication. In most cases, we see residents truly thrive in this social environment with an abundance of new activities and programs.
What Services Are Typically Included in a Nursing Home?
Nursing homes are designed for residents who suffer from severe mental or physical conditions and are unsafe or unable to live independently. A suitable resident might be in need of 24-hour daily nursing care or have physical laminations. A physical examination and physician's order are typically required for enrollment.
Nursing homes generally offer the following amenities:
Ongoing long-term care and daily living assistance such as help with eating, bathing and toileting
Medication management and administration such as injections
Rehabilitative services like physical, cognitive, occupational, speech, and respiratory therapies
Dental services, laboratory, x-ray and other ancillary services
Meal options designed with dietary needs in mind, including specialized diets
Since nursing homes provide round-the-clock medical care and assistance, they are typically more expensive than assisted living communities.
Assisted Living vs. Nursing Home Costs
Are assisted living facilities more expensive than nursing homes?
In the Cleveland area, assisted living pricing starts at around $115 per day and can increase depending on the level of care needed. Since Generations Senior Living is a family-owned and operated business, our costs are often lower than residential communities run by large corporations.
Does Medicare cover the cost?
Assisted living communities typically use private payment systems. Fees can be paid for by multiple sources. You or your loved one may be eligible to apply long-term care insurance or the Assisted Living Medicaid Waiver Program. Qualifying veterans, spouses, or widowed spouses may be eligible to utilize Aid and Attendance benefits as well.
Short-term respite stay is available from 1 to 2-months for older adults who have had a recent surgery or illness and are unable to return home. Respite stays begin at $200 per day and can also be used if an everyday caregiver is unavailable or unable to assist for a short time, i.e. vacation.
Please note, these prices are generalized and are subject to change. Learn more about our financial options.
Nursing Home vs. Assisted Living – Which Senior Housing Option Is Best for You or Your Loved One?
For an elder adult who is unable to live independently due to physical or mental conditions, a nursing home would be a good option with round-the-clock medical care.
For an independent senior who wants to join an active and social community, assisted living is a great option. The amenities and services provided take away common stresses like meal prep and managing medications. Diverse activities and programs keep the mind, body, and spirit engaged.
Learn about our affordable assisted living options and schedule a tour today!
February 9, 2021
16 comments
Be the first to leave a comment
After submitting your comment, it will be reviewed before being posted here. Thank you!
Disclaimer: All content provided on this blog is for informational purposes only. This blog may provide general information and discussion about medicine, health and related subjects pertinent to our clients' interests. The owner of this blog makes no representations as to the accuracy or completeness of any information on this site. The words and discussion on this blog should not be construed as medical and/or legal advice. If you have specific medical or legal concerns, you should speak to an appropriately licensed professional.