Short-Term Respite Care in Northeast Ohio
Are you recovering from a surgery or illness? Would you like peace of mind while family members are away? Or have you ever wondered what it is like to live in an assisted living community? You are likely to find the answers to your questions by exploring a short-term respite stay with Generations Senior Living in Strongsville and Berea, Ohio.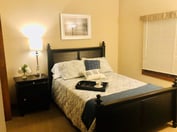 Respite Care Facilities in Strongsville & Berea
At Generations Senior Living, our Short-Term Respite Care program gives you 24-hour care in a beautiful setting. You can focus on getting well again while enjoying readily available meals, creating new hobbies and friendships, and taking advantage of our various amenities and services.
With your own fully furnished one-bedroom suite, you will have a private place to relax. Enjoy homemade meals, housekeeping, and regular laundry service. Participate in one of our many vibrant activities to challenge your mind, body, and soul. And rest easily at the end of the day. This is your opportunity to experience an Assisted Living community and everything we have to offer without making a long-term commitment.
Specially trained team members are here for you around the clock, helping with medication management and personal assistance as needed. Licensed nurses provide daily oversight, and resident care attendants are ready to assist as needed. Through our physician services, we provide access to a wide network of medical care providers, so you can stay healthy and well.
Our senior living communities are unique in their own way, but both of the Strongsville and Berea facilities offer the same high-quality personalized care.
Frequently Asked Questions about Respite Care
What is short-term respite care?
Short-term respite care is for those who are recovering from an injury, illness, or surgery. It's also a great way for caregivers to take a planned break, knowing that their loved ones are being taken care of. This type of care usually lasts for one to four weeks.
What are the different types of respite care?
Different types of respite care include short-term respite care facilities (which is what we offer), in-home care, and adult day care centers.
What services does respite care provide?
Short-term respite care services include help with activities of daily living, companionship, basic medical care and medication management, meal preparation, and more.
Does Medicare pay for short-term respite care?
Short-term care is covered under the hospice benefit of Medicare. If this does not apply to you or a loved one, reach out to your insurance provider for more information.
Tour Our Northeast Ohio Short-Term Respite Care Facilities
Generations Senior Living is second-generation family owned and operated.
Families caring for families is in our roots!
Take a virtual tour of our respite care facilities. And, when you're ready to speak to one of our Assisted Living specialists about your short-term respite care stay, just give us a call.
Friendly staff. Cleanliness throughout community. Lots of amenities! Pleasing exterior of building. Great decor: Water fountain, dining room, public areas, Baby Grand Piano!!

- Elisabeth B.
Have questions about our senior independent living community?
Get in touch with
Generations Healthcare Management