Five subtle questions to help gauge your aging parent's health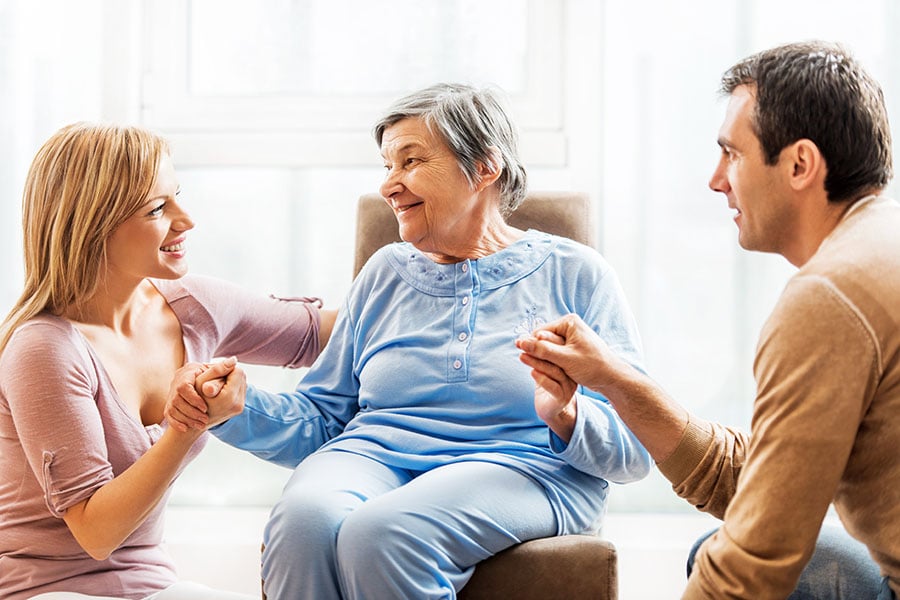 Reaching out for help can difficult, especially for our loved ones. But asking a few subtle questions can help you gauge the physical and mental health of your parent and determine if it may be time for assisted living. Consider asking these five questions at your next visit:
Question #1
How was breakfast?
An apple a day may keep the doctor away, but that isn't all they should be eating. Along with taking their medications as prescribed, they should maintain a healthy lifestyle by eating three meals a day and staying active. Asking this simple question about their day will help them with their memory and reassure you about their daily routines.
Question #2
Did you get a haircut?
Keeping an eye on their grooming and appearance can be an indicator if they are not taking care of themselves. Do they show the following signs?
Unwashed hair
A strong odor
Stains on their clothing
Repetitive clothing each visit
If you notice a new or fresh look, it's a good sign that they are keeping up with their daily appearance. This can also be a good indicator if they are keeping up with their finances.
Question #3
What have you been up to lately?
Depression can be a common issue for seniors. They might want to stay at home, where they're comfortable, and keep to themselves. Check their calendar and ask them how their friends are doing. Did they win at BINGO? What else are they doing to stay social?
Question #4
I saw that your lawn was mowed. Did the neighbor kid do that for you?
The answer to this question can mean one of two things: 1) they are maintaining their home themselves or 2) they have someone nearby to help if they need it. If the answer was the former, make sure to ask a neighbor or friend to check-in on your loved one, whenever you're not able to.
Question #5
How is your car treating you?
As our loved ones get older, it may become more difficult for them to see while driving, especially at night. If they complain about seeing, hearing or anything that may impair their ability to drive, it may no longer be safe for them to get behind the wheel.
If your loved ones are struggling with daily tasks or their health and safety are at risk, it might be time to consider assisted living. At Generations Senior Living, our team of professionals has more than 50 years of experience providing residents in our active senior communities the independent lifestyle they want and the care they need. Contact us to learn more.
August 22, 2019
1 comments
Be the first to leave a comment
After submitting your comment, it will be reviewed before being posted here. Thank you!
Disclaimer: All content provided on this blog is for informational purposes only. This blog may provide general information and discussion about medicine, health and related subjects pertinent to our clients' interests. The owner of this blog makes no representations as to the accuracy or completeness of any information on this site. The words and discussion on this blog should not be construed as medical and/or legal advice. If you have specific medical or legal concerns, you should speak to an appropriately licensed professional.