Your assisted living checklist: How to find a top facility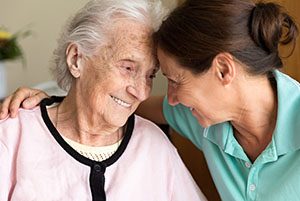 Choosing the right assisted living facility for your family is an important decision. It's a complex search but knowing what to look for will help you find the best care. Use this checklist as your guide to find a top assisted living facility.
Determine the physical and mental needs of your loved one
Every person ages differently, so it's important to consider the specific needs of your loved one.
What medical care will they require? If they suffer from dementia or Alzheimer's disease, it's important to look at the size of the facility and the number of people they will interact with daily.
What activities does the facility offer? Ask about entertainment, games, classes and spiritual services available to keep the residents engaged and physically fit.
Consider location and accessibility
Being able to visit with your loved one is essential when deciding on a top assisted living facility.
Is the location convenient for family and friends to visit? Choose an area that's close to home.
Will you only be able to visit at certain times? Ask about the facility's visiting hours.
Do the residents go on community outings? Find out if there are opportunities for residents to take supervised trips to local restaurants and shopping malls.
Explore the community and living space
Home is where the heart is, so it's important to choose a facility that offers all the comfort and amenities of home.
How large are the rooms? If your loved one needs more space for personal belongings or needs less space for safety reasons, it's important to consider the size of the individual rooms.
What's the food like? Consider the taste, style and options available, as well as the food restrictions or dietary needs of your loved one.
Understand the cost
Your personal financial situation is an important factor to consider, but you should never have to sacrifice quality care for affordability.
How much does assisted living cost? See what fits into your monthly budget, and if that price will change based on room size or the level of care needed.
What are some of the additional costs that you might run into? When looking at different facilities, ask about additional expenses for services such as bathing, laundry or medical management.
Prioritize their happiness
Always remember that the happiness and comfort of your loved one is the most important factor to consider when choosing a top assisted living facility.
At Generations Senior Living in Northeast Ohio, we make sure the needs of your loved one comes first. Contact us to see if we would be a good fit for your family.
December 5, 2018
0 comments
Be the first to leave a comment
After submitting your comment, it will be reviewed before being posted here. Thank you!
Disclaimer: All content provided on this blog is for informational purposes only. This blog may provide general information and discussion about medicine, health and related subjects pertinent to our clients' interests. The owner of this blog makes no representations as to the accuracy or completeness of any information on this site. The words and discussion on this blog should not be construed as medical and/or legal advice. If you have specific medical or legal concerns, you should speak to an appropriately licensed professional.