Myths and Facts about Grief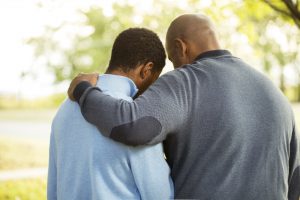 There are many, many myths about grief. And these myths can make grieving significantly more difficult. Grief myths can lead to unrealistic expectations – of ourselves, and from others. These myths complicate our journey. You may find truth in some of these myths – that's ok! This list is made of statements that may sometimes be true, but they are not always true. This distinction is important.
Myth 1: TIME
Time heals all wounds.
Grief has an endpoint.
Eventually, things return to normal.
The first year is the worst.
It takes X years to get over it.
There is a predictable, consistent timeline to the grieving process.
Fact: There is no timeline to grief. It is a deeply and profoundly personal experience – a series of ups and downs, good times and bad. There is no endpoint. And this is ok. Our grief is an enduring reminder of the importance our loved one played in our lives. That doesn't end. But it will change and transform into something manageable. People in our life can sometimes make us feel like we should have "gotten over it by now." This isn't helpful and it simply is not true.
Myth 2: SUPPORT
Your friends and family will be your best support systems.
People who have experienced a similar loss will understand you.
Religious leaders, counselors, doctors and teachers have training in grief and understand what you're going through.
Fact: The support you seek and receive will vary widely, will sometimes disappoint, and will sometimes surprise you. Those who you think should be there for you might not be able to provide the type of support you need. This can be disappointing. Surprisingly, trained professionals – doctors, religious leaders, and counselors – are sometimes not trained at all in grief counseling. And finally, just because someone also experienced a similar loss – a spouse, a parent, etc., it doesn't mean your experiences will be the same or even be similar. It is important to communicate your needs, be your best advocate, make "grief friends" and identify who in your support structure can help with particular steps and tasks during your journey.
Myth 3: GRIEF AS AN EMOTION
Grief is the same as sadness.
Grief is the same as depression.
Grief is a single emotion.
After a death, you will feel a rush of strong emotions.
Grief is an emotional response to loss.
Fact: Grief can share similarities and characteristics of sadness and depression. But it is different. Grief is a complex set of emotions that ebb, flow and transform. It can be physical, emotional, spiritual or social. Grief can result in normal responses that feel completely foreign and distressing to the person who's experiencing them. There is no normal grief journey. It's different and individual for every person.
This list is by no means exhaustive. There are many more myths and misconceptions about grief. Grief is commonly misunderstood with various expectations that make it difficult to process the journey. At Cypress Hospice, we understand this complex and difficult time. Our patients and their loved ones are not alone. That's why we provide grief support services both during a patient's time with us, as well as for one year after a patient passes.
Learn more about Cypress Hospice and the grief and loss support we provide.
March 14, 2017
0 comments
Be the first to leave a comment
After submitting your comment, it will be reviewed before being posted here. Thank you!
Disclaimer: All content provided on this blog is for informational purposes only. This blog may provide general information and discussion about medicine, health and related subjects pertinent to our clients' interests. The owner of this blog makes no representations as to the accuracy or completeness of any information on this site. The words and discussion on this blog should not be construed as medical and/or legal advice. If you have specific medical or legal concerns, you should speak to an appropriately licensed professional.