Happy Holidays from Generations Healthcare Management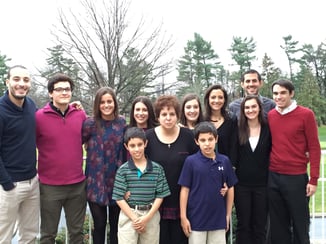 From our family to yours, we want to wish you a very happy holiday season and all the best in 2016! The holidays are about family coming together from near and far to share traditions and to create new memories. Our hope is that you and your family are able to gather and celebrate the traditions you hold close.
You may be traveling to spend time with an aging parent during the holidays. If that parent lives alone and you do not have the opportunity to see him/her on a regular basis, there are things you may want to observe to ensure that mom or dad are living a healthy lifestyle.
First, take a good look at the home. Is it in good repair? Look at the cleanliness and clutter. These can be good indicators if your parent is or is not able to maintain a safe living environment. Next, look to see if mail is piling up, especially bills that must be paid. Are the finances being managed in an appropriate manner? Take a peak in the refrigerator and freezer. Check to see if there is food present and ensure that it is not spoiled or expired. Ask what they eat on a daily basis and then look to see if those foods are present in the home. Are they eating a balanced diet?
Finally, take a good look at your parent. Are they attending to personal hygiene? Look in the laundry basket. Are clothes piling up? Is your parent wearing the same clothing each day of your visit? If clothes are piling up and the same clothing is worn daily, these are signs of decreased ability to manage personal hygiene and laundry. What about medication? Take a look at your parent's medications to ensure that outdated or discontinued meds are properly destroyed. Ask your parent what meds they are taking and at what time, then observe to see if that actually occurs on a daily basis.
If you have concerns about your parent's well-being, this may be the time to consider your next step in ensuring they receive services they need. If you have questions about what assisted living has to offer, we are always here as a reference for you. Check out our Frequently Asked Questions (FAQ), or contact us for more information and a tour of our communities.
Again, we wish you the best of holiday seasons and a very HAPPY NEW YEAR!
December 21, 2015
0 comments
Be the first to leave a comment
After submitting your comment, it will be reviewed before being posted here. Thank you!
Disclaimer: All content provided on this blog is for informational purposes only. This blog may provide general information and discussion about medicine, health and related subjects pertinent to our clients' interests. The owner of this blog makes no representations as to the accuracy or completeness of any information on this site. The words and discussion on this blog should not be construed as medical and/or legal advice. If you have specific medical or legal concerns, you should speak to an appropriately licensed professional.