14 of the Best Hobbies for Seniors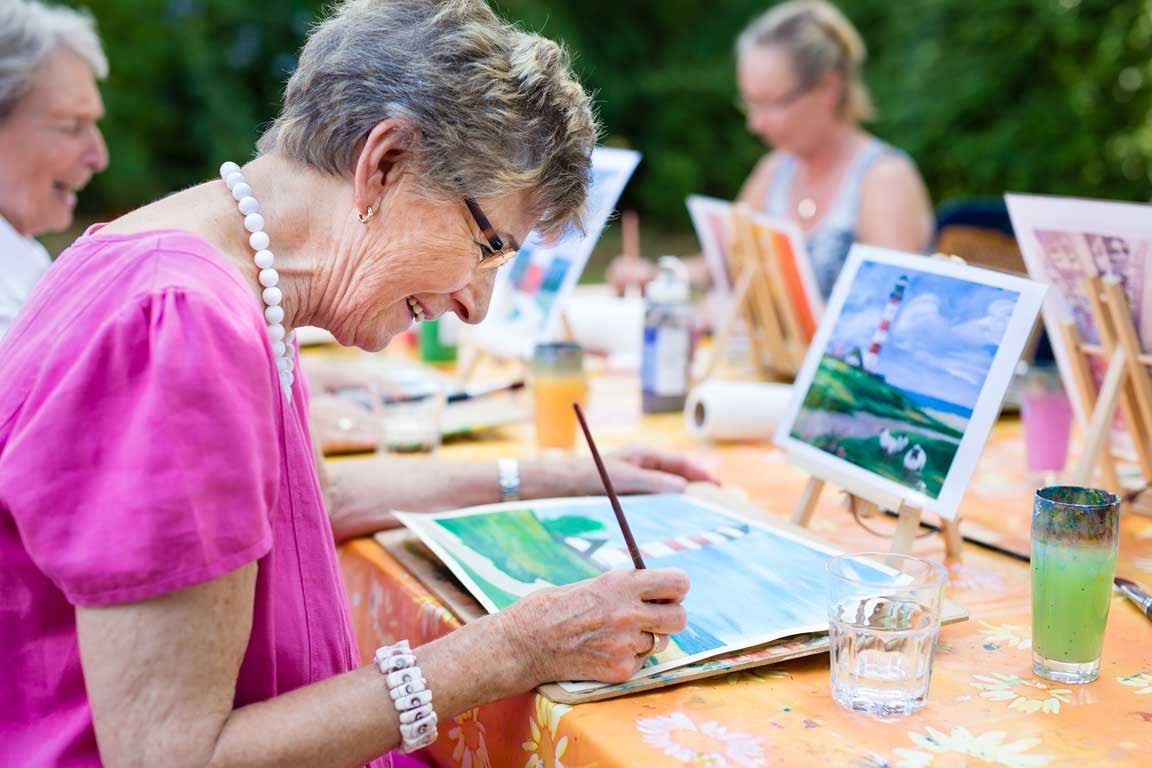 After retiring, what are you going to do with all that free time? The opportunities are endless. Beginning a new hobby—or revisiting one that you used to love—helps support healthy aging for the mind, body, and soul.
Staying active not only improves your physical health, but it also improves your mental health as well. Purposeful activities add a sense of well-being and happiness, increase resiliency, and improve creativity and memory. They also help you connect with those around you and offer the opportunity to spend quality time with family.
Here are 14 of the best outdoor and indoor hobbies for seniors.
1. Genealogy
Looking into your family lineage will teach you about the past while laying a foundation your family's future. Online resources like the Ancestry website can help you begin your journey of connecting the dots and uncovering family stories. The local library (or the ones in the area your ancestors are from) can also provide information. Digging into the past can be eye-opening; it's a great way to start conversations with relatives and maybe even find a new one to meet.
2. Writing
Writing is a versatile hobby that can fit anyone. Have an idea for a best-selling novel? Prefer writing poetry? Want to capture your life stories to share with family and friends? Or perhaps you're thinking of writing a column for a local newspaper? Grab a pen and paper and start capturing your thoughts. The methods of sharing your written words are as endless as your creative ideas. An added bonus of writing by hand is that it helps improve the strength and coordination of fine motor skills.
3. Birdwatching
Birdwatching is a hobby that can be as easy or involved as you'd like. You can sit at a window and see what passes by, or you can venture out and look for a specific winged wonder. During migrating seasons, you'll see different birds as they move through the area. The birds you usually see may display varied behavior. Taking photos, writing down what you observe, or imitating bird calls can add to the fun.
4. Learn a new language
It may be true that it's difficult to learn a new language later in life, pero no es imposible. (In Spanish, that means "but it's not impossible.") Learning this skill gives your brain a good workout. You can work from books, smartphone apps, computer programs, and even online video calls with instructors. Your senior living community might even coordinate in-person lessons with local school groups or organizations.
5. Learn about a favorite topic
Alright, maybe you're not into learning a new language. That's okay! There are so many other topics to learn about, with so many methods facilitate it. Listen to a new podcast, watch a documentary, checkout a book from the local library, or attend an online class or in-person presentation. Not only will you explore a new subject, but you'll most likely make some friends along the way.
6. Ballroom dancing
If you're an avid fan of "Dancing with the Stars," you've probably had a dream or two about floating around the dance floor. Tango, foxtrot, samba, Viennese waltz—the disco ball's the limit. Grab your dancing shoes, partner up, and cha cha cha. Dancing will help you stay active, improve coordination, and bring a smile to your face.
7. Calligraphy
Calligraphy may seem like an intimidating version of lettering, but with so many different styles, everyone can have fun with it. Grab a pen, brush, or other lettering tool, and start experimenting. There are hundreds of books you can buy or check out from the library for instructions. You can also follow calligraphers on social media, attend a community event, or join a local club that explores different lettering styles each month. Then, put your new skills to use by writing letters to friends, designing place cards for a holiday dinner, or creating posters with inspirational quotes. Calligraphy is another way to work on fine motor skills while expressing your creative side.
8. Get artsy
Speaking of your creative side… Why not try a new style of art? Watercolors, acrylics, ceramics, photography, quilling (rolled paper), scrapbooking—the choices are endless. Generations Senior Living offers an arts and crafts room, and is always looking for your creative ideas to add to the calendar. Ask your activities coordinator to invite a specific type of artist to walk you through their style of art. Getting artsy can flex your creative muscles and act as a calming meditation. And, when you're done, you'll have a stunning piece of art to display or give as a gift.
9. Yoga
Yoga seems so relaxing until you see someone twisted up like a pretzel. Then stress and doubt creep in. However, yoga is accessible for all ages, body types, and physical skills. The basis of yoga is focusing on your breath and being more mindful. A good instructor will be able to offer adaptations of poses that are accessible for you but still target the muscles you're trying to stretch and strengthen. There are even segments of yoga like chair yoga, which is one of the best hobbies for seniors with limited mobility. It still offers the benefits of yoga without overworking the body.
10. Play games
Improve your skills with an old favorite or learn a new game! Challenge friends or family or take some "me time" to challenge yourself. Not only are games fun, but they can also give players a brain boost. Crossword puzzles help with memory. Board games improve thinking and problem-solving skills. Sudoku and jigsaw puzzles also help with problem-solving skills, along with improving attention span. Some games, like Wii Bowling, are interactive, encouraging players to break a sweat while they play.
11. Computer classes
Because technology evolves so rapidly, learning how to use a computer and different programs can be intimidating at any age. Yet knowing how to use various applications helps you stay in touch with loved ones, learn about the world, and explore creative endeavors. There are a wide range of classes based on skill level and interest, so find one that's right for you. Generations Senior Living has computer stations available for all to access. We are happy to provide basic instructions as well, or you can look for classes at the local library and community centers.
12. Swimming
Swimming is a fun activity to do on your own or with others. It's good for your physical and mental health. Not interested in water activities? Check out your local community center for other low impact sports that are easy on your joints. Pickleball, walking soccer, golf, bocce ball, cycling, and others also have a social element that can help with mental health and happiness.
13. Gardening
Gardening is a calming, almost meditative activity that helps reduce stress. And, in the end, you get something tangible from it. You can grow flowers, veggies, succulents, and more! Don't worry about lacking a green thumb. If you're interested in getting your hands dirty and growing plants, you'll pick up skills along the way. Look for a gardening club near you to connect with other gardeners. They can give you advice or provide you with the tools and resources you need. At Generations Senior Living areas are available for you to exercise your green thumb.
14. Join a book club
Book clubs are a great way to read more and make friends. If your senior living community doesn't have one, offer to start one. You can select books based on a specific genre, such as biographies, science fiction, or even cookbooks. At monthly meetings, you can discuss the book as much or as little as you like. Sometimes the fun of book clubs is simply gathering with others who have the same shared experience.
Which hobby will you start?
With an array of easy hobbies for seniors to pick from, which one will you start? At Generations Senior Living in Berea and Strongsville, we provide numerous opportunities to try new activities while continuing to participate in your favorites. Our active senior communities have many dedicated spaces for quiet reading, board games, a workout or a fireside chat. Contact us today to learn more.
December 1, 2021
7 comments
Be the first to leave a comment
After submitting your comment, it will be reviewed before being posted here. Thank you!
Disclaimer: All content provided on this blog is for informational purposes only. This blog may provide general information and discussion about medicine, health and related subjects pertinent to our clients' interests. The owner of this blog makes no representations as to the accuracy or completeness of any information on this site. The words and discussion on this blog should not be construed as medical and/or legal advice. If you have specific medical or legal concerns, you should speak to an appropriately licensed professional.