Families caring for families: A look at the Generations Senior Living difference
At Generations Senior Living, you can tell the difference as soon as you step inside the front door. It's a warmth, a sense of home and belonging. We're a senior living community that puts uncommon value on family, and that's the Generations difference.
From our very roots as a company, Generations has focused on treating everyone in our community, residents and employees alike, just as we would our family. Our core values emphasize genuine respect, kindhearted fun, and an active, supportive commitment to integrity.
As a family-owned and -operated company, our family-centric culture is visible throughout everyday moments in our communities.
We feel that our employees have summed it up best when they said, "We're families caring for families … it's in our roots."
At Generations, we wouldn't have it any other way.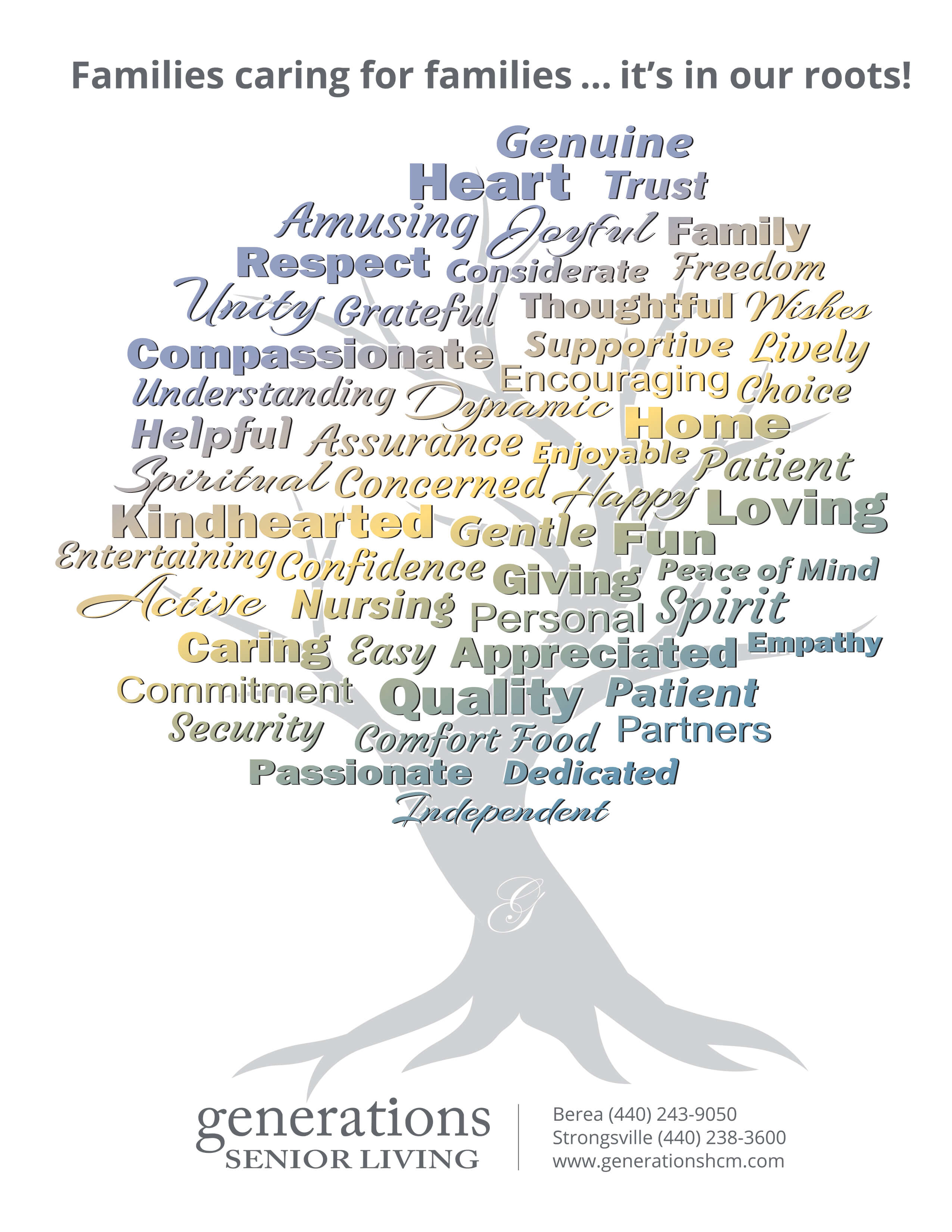 Founded in Values
Generations Senior Living is family-owned and operated. Founded more than 50 years ago by Robert Coury, today the second generation of the Coury family is at the helm, guiding the business by the same founding principles of care, respect, and integrity.
Through great care and intentional action, we have been able to sustain and grow our family-centric culture and atmosphere for residents and loved ones. The Coury Family along with the rest of our leaders and employees are always active, visible and approachable throughout our senior living communities. It's one of the many things we're proud of, and it's the way we set ourselves apart from the rest.
When you're here, you're part of the Generations family.
Dinner, Family-Style
The culture we have chosen to create and nurture here at Generations is an important part of everything we do. From the biggest business decisions to the smallest acts of kindness, we believe in treating every individual we care for or employ with the utmost respect and unwavering integrity.
A terrific example of the Generations difference can be found in the simplest acts. For instance, take the suppertime meal.
As anyone will tell you, family meals are important, and that's no different here at Generations.
When our residents sit down to dinner here in our dining room, they just might find themselves seated next to a member of the Coury family.
"Residents and employees see our owners walking the halls and eating their meals here," says Kimberly Bergmann, our regional marketing director. "That speaks volumes" about our dedication and genuine enjoyment of our residents and staff.
The Generations Difference
The Courys and the rest of the Generations family are proud to go above and beyond to serve our residents. Despite the size and scale of our operation, we are committed to the values we hold dear, including treating people like family. We believe that being kind and approachable to our residents and staff helps foster the kind of culture we can be proud of, and we'll continue to operate this way.
It's part of what makes us different from other senior living communities, and this difference is greatly appreciated, according to our employees and the family members who call Generations home! From the spirit of independence we foster in our residents to the proactive, personal approach we take to management, Generations is committed to passion, quality, and integrity across all aspects of our business.
Fostering relationships, encouraging community, and respecting our common dignity are all part of the approach we take, in life and at work, to make enriching experiences for others. We strive to uphold this high standard of principles and professionalism every day, and we take pride in our continual improvement.
We also believe that contributing to our community as an upstanding member, via community engagement, is part of our duty as well. We find it a pleasure to be a part of the Berea and Strongsville communities, and hope that you will find it a pleasure to join our family soon!
As always, we welcome you to contact us with any questions. Schedule a tour and see for yourself what makes the Generations difference so appealing.
August 12, 2021
0 comments
Be the first to leave a comment
After submitting your comment, it will be reviewed before being posted here. Thank you!
Disclaimer: All content provided on this blog is for informational purposes only. This blog may provide general information and discussion about medicine, health and related subjects pertinent to our clients' interests. The owner of this blog makes no representations as to the accuracy or completeness of any information on this site. The words and discussion on this blog should not be construed as medical and/or legal advice. If you have specific medical or legal concerns, you should speak to an appropriately licensed professional.