Celebrating the Holidays with Loved Ones in Assisted Living During COVID-19
The holidays will look a little different this year, particularly for those in assisted living. Finding ways to spread cheer while keeping loved ones safe is top of mind this season. Our team at Generations Senior Living has come up with a few clever ways for you to safely celebrate the holidays during COVID-19.

Christmas Drive Thru
We have always looked forward to welcoming friends and loved ones to our annual Christmas celebration at Generations Senior Living. COVID-19 restrictions prevent us from hosting the event this year, so our team has come up with a creative idea. This year, we will host a Christmas Drive Thru at Generations Senior Living of Berea on Thursday, Dec. 10 from 5:30-7 p.m. and Generations Senior Living of Strongsville on Thursday, Dec. 17 from 5:30 – 7:00 p.m.
Since we are unable to sit down together for dinner, we will provide a special holiday gift package for the two guests our residents invite. This gift contains a dinner for two, a bottle of wine and a personalized holiday ornament
Residents can see their guests in real-time as we live stream this event. Santa will be joining some familiar-looking elves in our holiday tent decorated with lights and Christmas music.
Video Chat with Family and Friends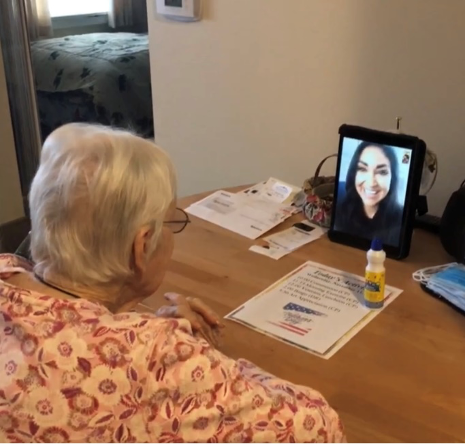 Unable to attend the Christmas Drive Thru? Families and friends from out of town can now connect from any location online. Our team will gladly assist residents with virtual connections.
Spread holiday cheer this season by virtually connecting with loved ones in assisted living. Join face-to-face conversations using FaceTime, Skype, Zoom or another video calling platform.
Invite family members to join for a virtual dinner, cookie baking or opening gifts. Kids can read their favorite holiday books or show off their holiday artwork. Do you share a favorite team with your loved one? Watch the big game and share real-time reactions.
A face-to-face call is a safe way to connect while protecting our friends and family from the spread of COVID-19.
Send Holiday Cards and Sunshine Mail
There's nothing quite like opening an envelope and seeing your loved one's unique handwriting. This year, you can send a family member a personalized holiday card with a handwritten note.
Tell them what you and your family have been up to. Perhaps you're planning on baking a traditional family recipe or maybe you took family pictures this year? Include them in the envelope and you're sure to make someone's day.
Don't let stamps hold you back. Generations Senior Living offers Sunshine Mail, a way for our residents' loved ones to virtually send notes and pictures to be printed out and delivered by our staff.
Schedule a Safe, In-Person Visit
We are so excited to be able to conduct indoor visitation with our residents and their loved ones during the holidays.
Simply select a day and time slot to schedule your visit using our indoor visitation registration.
We know the holidays will feel different this year due to COVID-19, but there are many ways to show your love this season. Generations Senior Living wishes you and your family a happy and safe holiday!
December 7, 2020
0 comments
Be the first to leave a comment
After submitting your comment, it will be reviewed before being posted here. Thank you!
Disclaimer: All content provided on this blog is for informational purposes only. This blog may provide general information and discussion about medicine, health and related subjects pertinent to our clients' interests. The owner of this blog makes no representations as to the accuracy or completeness of any information on this site. The words and discussion on this blog should not be construed as medical and/or legal advice. If you have specific medical or legal concerns, you should speak to an appropriately licensed professional.