Celebrating the Holidays the Generations Way
The holidays are all about family, and at Generation Senior Living, we are one big family. Whether you have a family of two or 20, traditions are a timeless way to gather with your loved ones and create lasting memories.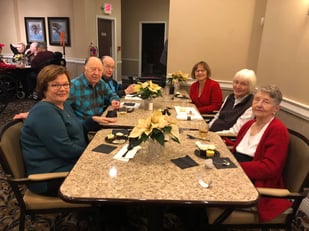 For seniors, spending time with family and maintaining those traditions are important for their mind and body wellness, especially during the holidays. Visiting with your loved ones is a great time to share memories and reminisce. This can help seniors with their communication skills, improve their quality of life, promote physical health and reduce their stress.
While planning your next visit to Generations Senior Living, we can help incorporate your holiday traditions. From listening to carolers and watching Christmas movies to enjoying cookies and seeing Santa, we have several activities planned to make the holidays special for you and your loved ones. Check out our upcoming events for our residents, staff and family members.
Our Holiday Schedule
12/12: GSLS Annual Resident & Family Christmas Party
12/14: Visit from the Little Flowers Carolers
12/16:

Visit with Santa at 2:00 P.M. (will include cookies and drinks)
"Elf" Movie Showing at 3:00 P.M.

12/20: Cleveland Botanical Gardens
12/23:

Christmas Sing Along at 2:00 P.M.
Christmas TV Specials at 3:00 P.M.

12/24: "White Christmas" Movie Showing & Trivia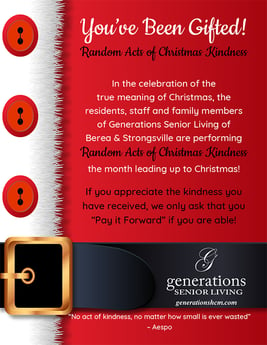 And don't forget about our "You've Been Gifted!" program. Throughout December, residents, staff and family members at our Berea and Strongsville locations can celebrate the true meaning of Christmas by gifting random acts of kindness.
Join us for one of these fun holiday activities and keep the traditions alive with your loved ones. Contact us for details. We want to wish you happy holidays from our family at Generations Senior Living!
December 11, 2019
0 comments
Be the first to leave a comment
After submitting your comment, it will be reviewed before being posted here. Thank you!
Disclaimer: All content provided on this blog is for informational purposes only. This blog may provide general information and discussion about medicine, health and related subjects pertinent to our clients' interests. The owner of this blog makes no representations as to the accuracy or completeness of any information on this site. The words and discussion on this blog should not be construed as medical and/or legal advice. If you have specific medical or legal concerns, you should speak to an appropriately licensed professional.