Six ways to make the most of your visit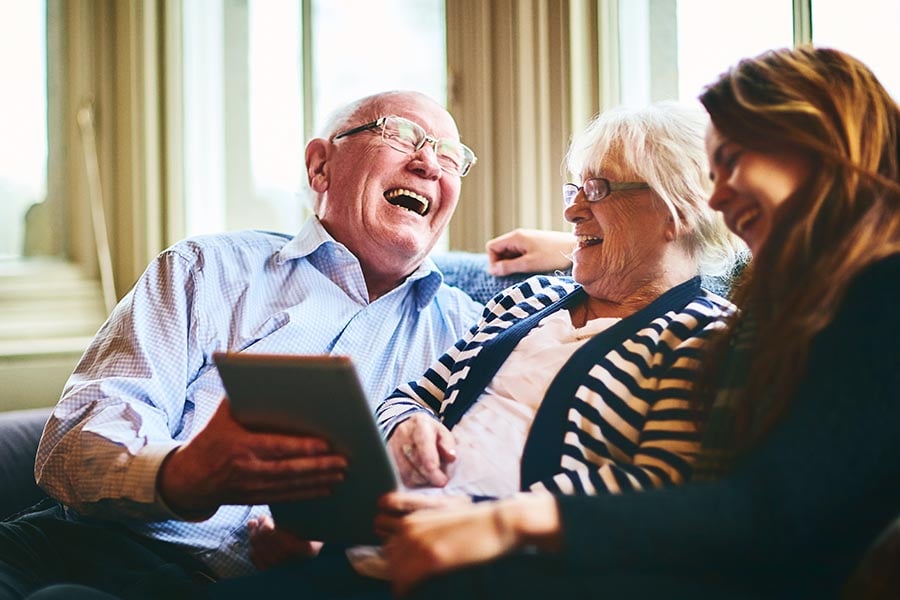 When a parent or loved one moves into an assisted living community, the transition can be difficult for the whole family. Routines get shaken up and some pastimes can't be continued; yet new experiences are around every corner. Here are six ways to make the most of your visit by invoking your favorite memories – and making some new ones.
Change the scenery
A simple activity is to get outside. Whether that's moving your conversation to a bench in the fresh air or taking a walk, changing the scenery can add diversity to the day. When some seniors first move into assisted living communities, they stay in their rooms. They're anxious to meet new people and join activities. Getting them outside can be a nice change of scenery.
Check with the facility to see if they coordinate off-site events. Many communities will schedule trips to local attractions, museums or shopping centers.
Do an activity with the kids
Bringing the grandchildren with you can be a mood booster for everyone. Grandparents love to see their grandkids and listen to what they have been up to at school and in their extracurricular activities.
If you think your kids will get bored, bring a craft for everyone to do or a book that your parent can read to the kids. It will be great bonding time, and kids can supply some good laughter.
Bring your pet
If the assisted living community permits animals, consider bringing your dog or cat with you. Pets are a nice break from everyday life and can help reduce stress. A pet is also a great conversation starter. Introducing a beloved animal to others is a wonderful way to easily meet people at the community.
Go down memory lane
Moving to an unfamiliar place can be jarring, and it may take longer than expected to get used to. When visiting your loved one, take some items that will bring up good memories: photo albums, a memento from a trip, a family heirloom, old letters or a favorite recipe book. Nostalgic items can start some of the best conversations you'll ever have with your parent or loved one.
Bring a special meal
Who doesn't love sharing their favorite foods? Make a family recipe ahead of time and bring it with you to share. Or, pick up something they crave, or feel is a special treat. Maybe it's their favorite slice of cake from a local bakery, a latte that reminds them of coffee dates with their friends, or a pizza you'd always have during game nights.
Plan a fun activity
Planning a fun activity can create excitement around your visit. For example, you could organize a mini game tournament among family members. Or, you could start a book club. Pick a book that you both read on your own, then discuss a few chapters during each visit. You can plan something simple or elaborate. Just make sure it's an activity everyone would enjoy.
At Generations Senior Living, we can help you make more memories with your loved ones. Contact us to learn more about our assisted and independent senior living communities.
July 24, 2019
0 comments
Be the first to leave a comment
After submitting your comment, it will be reviewed before being posted here. Thank you!
Disclaimer: All content provided on this blog is for informational purposes only. This blog may provide general information and discussion about medicine, health and related subjects pertinent to our clients' interests. The owner of this blog makes no representations as to the accuracy or completeness of any information on this site. The words and discussion on this blog should not be construed as medical and/or legal advice. If you have specific medical or legal concerns, you should speak to an appropriately licensed professional.