A letter from the family of one of our residents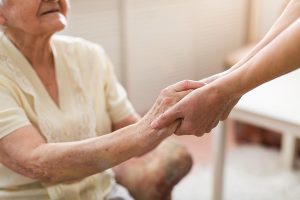 At Generations Senior Living, we care for our residents like we would our own family. It is our goal to provide the highest level of compassionate care to our residents, surrounding them with friendly, professional and caring staff to support their individual needs.
We recently received this touching letter from the family of one of our long-time residents, Jean. We're so happy to have been a joyful part of her life and grateful to our staff that always go above and beyond for each and every one of our residents.
"My family and I wanted to let you know how grateful we are to Generations of Strongsville for the care my mom received there over her years there, and especially during her final days.
She was very happy at Generations. She took part in many of the activities, she enjoyed the friends she made there, and most of all, she loved the staff. Whenever you had one of those "send a compliment to a staff member" activities, she literally tried to fill out a compliment card for every single person – she worried that someone would be left out. She loved her nurses and aides, the cleaning and maintenance staff, the front desk staff, Cathy and Bob in activities, and she had a soft spot for the "kids" who worked in the dining room.
When it became obvious that she was declining, I wasn't sure if she'd be able to stay at Generations. Amber and Shannon encouraged me that she could stay there with the assistance of hospice care. They were so right – I'm so happy that she spent her last days in her familiar environment instead of a strange place. The nurses and aides could not have been more attentive and caring to her. Amber, Shannon, and Jeannie made sure that our every need was met. Every single person was caring, compassionate and in my view, went "above and beyond." You should be proud of your employees, as I'm sure you are.
Thank you to one and all for the exceptional facility that you run, and to all your employees who truly have caring hearts for the work they do."
-Wendy Steller and the family of Jean Pagnard
May 10, 2019
0 comments
Be the first to leave a comment
After submitting your comment, it will be reviewed before being posted here. Thank you!
Disclaimer: All content provided on this blog is for informational purposes only. This blog may provide general information and discussion about medicine, health and related subjects pertinent to our clients' interests. The owner of this blog makes no representations as to the accuracy or completeness of any information on this site. The words and discussion on this blog should not be construed as medical and/or legal advice. If you have specific medical or legal concerns, you should speak to an appropriately licensed professional.