How to Ensure Senior Safety During the Winter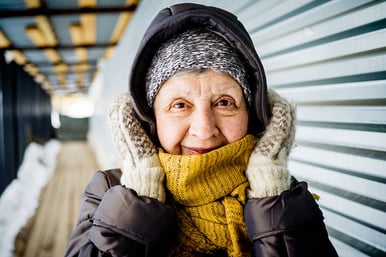 The winter months can be difficult for seniors. When the weather turns cold, they are especially vulnerable to accidents and other health concerns. Here are a few tips for protecting your loved ones this season.
Keep warm inside
The temperature outside during the winter is not the only concern for seniors. A cold living space can cause hypothermia and other serious health issues. To stay warm inside:
Dress in warm layers, even inside the house. Make sure your loved one has a cozy blanket if they're sitting down for long periods of time and uses socks and slippers to keep their feet warm.
Set the thermostat to a comfortable temperature, typically between 68-70 degrees.
Avoid the use of dangerous space heaters, as they can often be a fire hazard or emit dangerous carbon monoxide fumes.
Avoid falls on ice
Snow and ice can make stairs and walkways treacherous for seniors, and many times a fall can lead to serious injuries such as hip and wrist fractures or concussions. To avoid accidental falls on snowy surfaces, make sure your loved one:
Wears proper shoes or boots with rubber treads for the best traction on wet surfaces.
Uses a walker or cane with a rubber tip for extra stability.
Avoids walking outside until surfaces have been cleared of snow and ice. They should also stay inside after dark, when temperatures dip lower.
Watch for illness and medication complications
Certain health conditions pose a greater danger for seniors on cold days. If your loved one suffers from a condition that may put them at risk, it's important to plan ahead to keep them warm.
Alzheimer's disease and dementia can cause confusion, which may lead to a senior to go outside into the elements unprepared.
Parkinson's disease, arthritis and other mobility issues can make it more difficult to put on additional clothing layers, use a blanket or get out of the cold.
Diabetes can slow blood circulation and make extremities cold much faster.
Thyroid issues can make a person feel colder than usual, making it more difficult to get warm.
Certain medications, both prescription and over the counter, can affect the way your body holds heat. Ask your doctor if you're unsure of what medications might put your loved one at risk.
At Generations Senior Living, we treat your family like it's our own. We take every precaution during the winter months to keep residents warm, happy and healthy. Learn more about our senior living communities by scheduling a visit.
January 30, 2019
0 comments
Be the first to leave a comment
After submitting your comment, it will be reviewed before being posted here. Thank you!
Disclaimer: All content provided on this blog is for informational purposes only. This blog may provide general information and discussion about medicine, health and related subjects pertinent to our clients' interests. The owner of this blog makes no representations as to the accuracy or completeness of any information on this site. The words and discussion on this blog should not be construed as medical and/or legal advice. If you have specific medical or legal concerns, you should speak to an appropriately licensed professional.