Stress Management Tips for Seniors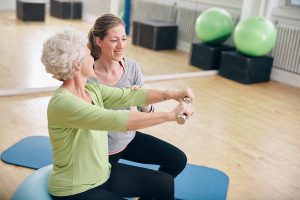 While many Seniors find joy in their retirement, it doesn't mean that the golden years don't come without some problems. Just like any stage of life, health, relationships and finances can be a source of stress. Seniors need their own set of tactics to help manage stress, especially since they may no longer have access to the same routines or comforting places. Here are a few of our favorite stress management tips.
1. Get Social
It may seem counter intuitive to add more people or conversations into your life when you're stressed. But for Seniors especially, connecting with others can be extremely helpful. Whether it takes your mind off things for a time, or helps you realize you're not alone, a little social time can go a long way toward managing stress.
2. Meditate
Don't be intimated by the word "meditate." Meditation can take lots of forms, like prayer, a quiet walk or even a few minutes of deep breaths. Keep it simple and try a meditation podcast, like Meditation Minis, which has free guided sessions that are often less than ten minutes long.
3. Draw on Your Past
One of the best things about being a "person of a certain age," is that you have lots of experience to draw from. Reframe current stressors into "challenges" or "tests" and use what you know has worked in your past to meet them head on.
4. Try Something Tactile
Pet a cat, learn to crochet, do a puzzle, paint or work with clay. It's hard to stay stressed when your hands are busy or you're learning something new. While sewing a quilt or building a model car doesn't mean problems are gone forever, it might just give you the break you need to tackle your problems with a fresh perspective.
5. Be "Healthful"
"Healthy" can look different after 60, which is why we prefer the term "healthful." Combat stress by doing what you can to be your best healthful self. Whether that means an extra helping of veggies at dinner, or adding more water to your routine, even tiny adjustments can help manage stress.
No matter what you do to combat stress, know that you're not alone. Reach out to someone…even a simple chat can do wonders.
These 5 stress management tips are just a few of the many ways to deal with stress. If you have questions or would like to learn more about our active senior communities in the Cleveland, Ohio area, please reach out to us for information about the senior care and services available at Generations.
September 4, 2017
0 comments
Be the first to leave a comment
After submitting your comment, it will be reviewed before being posted here. Thank you!
Disclaimer: All content provided on this blog is for informational purposes only. This blog may provide general information and discussion about medicine, health and related subjects pertinent to our clients' interests. The owner of this blog makes no representations as to the accuracy or completeness of any information on this site. The words and discussion on this blog should not be construed as medical and/or legal advice. If you have specific medical or legal concerns, you should speak to an appropriately licensed professional.