4 Pet Care Tips for Seniors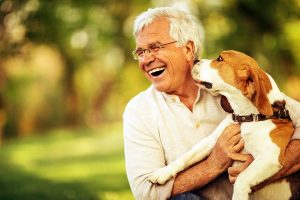 Owning a pet is a wonderful experience for people of all ages. Pets offer companionship, unconditional love and can be best friends and guardians. Plus, they help improve moods, boost social interaction and encourage exercise. Many Seniors own pets and find great comfort and joy in the care of an animal. Here are four of our favorite pet care tips for those in their golden years.
1. Get Organized
Keep stored food or litter boxes up on taller shelves so they're easier to reach or clean, hang leashes by the door and keep toys in one place. Staying organized with pet supplies, food and medications eases the daily care routine as well as helps eliminate bending or fall hazards.
Also, keep important pet related numbers, websites and other info accessible and in one place so it's easy to find for either yourself or one of your loved ones.
2. Stay Tidy
Spilled food and water, loose toys and pet messes can quickly turn from a mild nuisance into a serious hazard. If you're unable to take care of messes immediately, ask for help from a loved one or caretaker.
When it comes to grooming or bathing, take pets to a groomer if possible. Or, try a pet bathing shop, which has higher tubs and sprayers that can eliminate bending or slippery floors (or pups) at home.
3. Have a Plan
If regular transportation to the pet store isn't always possible, have pet food delivered from a place like Amazon.
Even the fittest seniors might find that regular exercise isn't always possible, or that they're facing a sudden visit to the doctor or hospital. Have a plan in place for the care of your furry friend, especially if the need for care is unexpected.
Some apps, like Wag, can bring a dogwalker or pet sitter to your doorstep in minutes.
4. Stay Healthy
Mark important immunizations and upcoming vet visits on the calendar. Regular care is the best way to keep pets healthy.
But in emergencies or with other illnesses, pet care can be expensive. Organizations like Seniors for Pets can help with veterinary costs as you work to keep your pet in its best condition.
We hope that this article provided you with a few pet care tips that you can consider and find helpful. Explore our blog further for more tips and to learn more about our senior care, services & communities.
September 18, 2017
2 comments
Be the first to leave a comment
After submitting your comment, it will be reviewed before being posted here. Thank you!
Disclaimer: All content provided on this blog is for informational purposes only. This blog may provide general information and discussion about medicine, health and related subjects pertinent to our clients' interests. The owner of this blog makes no representations as to the accuracy or completeness of any information on this site. The words and discussion on this blog should not be construed as medical and/or legal advice. If you have specific medical or legal concerns, you should speak to an appropriately licensed professional.