Common Mistakes People Make When They Offer Condolences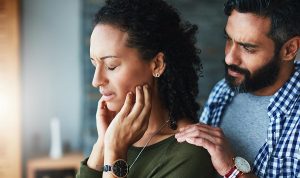 Grief is a difficult journey for both the individual grieving, and for the individuals that seek to support the journey. If you have a friend who is currently grieving the loss of a loved one, this guest post by Suzie Kolber, a friend of Generations Senior Living, to help you know just what to say and when to say it.–Kim
Talking to someone who has just lost a loved one is never easy. In fact, many people avoid the situation by staying away or sending a generic card. They are afraid of saying the wrong thing. While there is no one right way to offer condolences, there are a few mistakes well-meaning people often make. Learn from others so you don't make the same errors.
Saying "It will get better."
While you know the person won't always feel like they do right now, telling them so only trivializes their feelings. Instead, you want them to know it's okay to feel this way. You have no idea how long it will take for their heart to mend and for them to feel like resuming life again.
In place of telling someone to cheer up or that they will feel better in time, you may say something like "I'm here for you if you need to talk." This lets the person know they don't have to pretend to feel better if they don't.
Trying to cheer them up
Everyone moves through the stages of grief at their own pace, and you can't hurry it along. If the person is feeling sad, they don't necessarily want you trying to make the smile or laugh. They may not be ready to move forward with their daily lives because it feels like they are leaving the deceased person behind.
You don't want to avoid talking about the person who passed away because it may actually make them feel better. Hearing stories about that person from your point of view may be the healing they need. And you might be surprised to find it does cheer them up. While you may not enjoy talking about sad things, forcing conversation on superficial topics because they are happy or neutral won't ease the person's pain or make them forget about their loved one.
Pretending nothing has changed
Many people feel awkward talking to the loved one of someone who died. They aren't sure what to say, and so they try to avoid any mention of the person. They will talk about the weather, what's going on at work or other normal stuff. While this may be helpful, don't purposefully avoid talking about the person who died.
The family member knows they are gone, and they will feel the silence as you struggle to avoid mentioning the person. Instead, mention them as it feels normal. Talking about the person is one way the loved one has of keeping their memory alive. Don't be afraid to talk about serious and sad subjects. Ignoring them won't make them go away, and the discussion can help the person deal with their emotions.
Knowing the right thing to say can be difficult, but knowing what not to say can be even harder. Just know that if your heart is in the right place, the person will understand what you can't find the words to say. Your presence means more than any words, so don't avoid interaction with the family just because you aren't sure what you should say to them.
---

Suzie Kolber is a writer at obituarieshelp.org/. The site is a complete guide for someone seeking help for writing words of condolences, sympathy messages, condolence letters and funeral planning resources.
---
July 10, 2017
0 comments
Be the first to leave a comment
After submitting your comment, it will be reviewed before being posted here. Thank you!
Disclaimer: All content provided on this blog is for informational purposes only. This blog may provide general information and discussion about medicine, health and related subjects pertinent to our clients' interests. The owner of this blog makes no representations as to the accuracy or completeness of any information on this site. The words and discussion on this blog should not be construed as medical and/or legal advice. If you have specific medical or legal concerns, you should speak to an appropriately licensed professional.