Easy Gardening and Growing Solutions for Seniors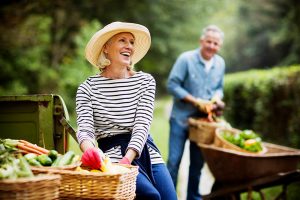 Cold temperatures are finally a thing of the past and it's time to enjoy that spring weather. For many Seniors, warmer weather means being outside in the garden or tending to flower beds.
But, depending on you or your loved one's current health, mobility or living situation, cultivating a large garden may no longer be a possibility.
Fortunately, that doesn't mean that Seniors can't still receive joy and wellness benefits from exercising that green thumb. Thanks to technology and new innovations, most Seniors can garden and grow in nearly every environment.
Here are a few of our favorite gardening solutions for Seniors.
Seed Sheet
Seed Sheet takes the guesswork out of container or small plot gardening. Kits start at $14.99 and come complete with a weed barrier and 100% non-GMO seeds, ready to simply roll out, water and grow.Smaller kits fit perfectly into buckets or large flower pots, and are grouped into fun combinations to "grow your own salads" or grow peppers and herbs to perfectly season tacos. There's no waste, and with a little TLC, you or your loved ones can have a tiny garden, right inside.
Community Gardening
Many neighborhoods cultivate community gardens that benefit neighbors and others in need. They also bring lots of beauty and joy to the area.These gardens often need individuals to help plant, weed or water throughout the growing season. This is a great way for Seniors to be involved in the gardening process, without the heavy labor of maintaining their own plot of land. Find a community garden near you through the American Community Gardening Association.
Monthly Gardening Subscription
Subscriptions aren't just for magazines anymore! Many companies offer low cost monthly subscriptions for individuals to receive plants, seeds and other gardening supplies right through the mail.The Urban Organic Gardener allows individuals to customize their subscription based on their living situation or desired grow location (balcony/patio, window sill, backyard), growing medium (containers, hydroponics) and sunlight. Once a month, they'll send everything needed to keep your little garden going.Or, if you don't want to grow from scratch but still want green in your home, you can try Succulent Lovers. This low-cost subscription delivers grown, hard-to-kill and beautiful succulents to your doorstep each month.
Share your favorite gardening tips for Seniors with us, or contact us to learn more about our Independent and Assisted Living communities.
April 24, 2017
0 comments
Be the first to leave a comment
After submitting your comment, it will be reviewed before being posted here. Thank you!
Disclaimer: All content provided on this blog is for informational purposes only. This blog may provide general information and discussion about medicine, health and related subjects pertinent to our clients' interests. The owner of this blog makes no representations as to the accuracy or completeness of any information on this site. The words and discussion on this blog should not be construed as medical and/or legal advice. If you have specific medical or legal concerns, you should speak to an appropriately licensed professional.