6 Spring Cleaning Tips for Seniors and their Caregivers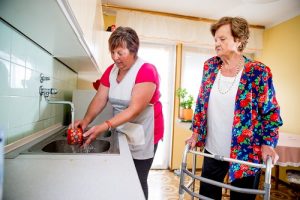 It's that special time of year when many people decide to dive into spring cleaning.
For seniors and their caregivers, spring cleaning can not only be a benefit to keeping things spic and span, but also can be imperative to a senior's continued safety and happiness. So here are a few tips to help with your next cleaning session!
Check medications Go through all medications and check expiration dates. Safely dispose of any old medications and call in any refills that are needed. This is also a good time to check in with you or your loved one's physicians to make sure the current medication regimen hasn't changed or doesn't need adjusted.
Check alarms Test all fire alarm, carbon monoxide and house alarm batteries or wiring to make sure they are in good working order. These safety devices often save lives, so replace any old batteries or call in an electrician if needed.
Check cabinets It happens to all of us, at any age: things can sometimes get shoved onto high shelves or forgotten at the back of the drawers. Go through cabinets and other storage spaces (including the fridge and freezer), check expiration dates and throw away anything that's gone unused or isn't fresh.Garages and closets also might have items that can be donated, like old blankets, clothing or furniture.
Create a budget If you're looking to implement new organization methods or need to rent a storage unit, make sure to set a budget ahead of time and stick to it. Closet organization, plastic tubs and other organizational items can be expensive, so know what you're willing to spend.(Bonus tip: a garage sale can help you purchase the needed organizational items.)
Clear pathways Make sure clear paths are available to all important parts of the house or apartment. Check cords, pick up clutter and double check any other tripping hazards, like low stools or other furniture. Stumbles or falls can be a big safety hazard for you or your loved one, so eliminate as many trip risks as possible.
Keep dignity If you're a caregiver, make sure you include your loved one in the cleaning process as much as possible. While some seniors may not be able to help move things physically, if they're able, allow them to make decisions about things to keep, donate and throw away and keep them in the loop about cleaning. This allows your loved one to retain a sense of autonomy and control about their life, even if things about their living space might be changing.No matter how you go about spring cleaning, remember to keep safety and comfort in mind! If you'd like to learn more about how Generations Healthcare helps our residents in Assisted and Independent Living with housekeeping, contact us.
April 10, 2017
3 comments
Be the first to leave a comment
After submitting your comment, it will be reviewed before being posted here. Thank you!
Disclaimer: All content provided on this blog is for informational purposes only. This blog may provide general information and discussion about medicine, health and related subjects pertinent to our clients' interests. The owner of this blog makes no representations as to the accuracy or completeness of any information on this site. The words and discussion on this blog should not be construed as medical and/or legal advice. If you have specific medical or legal concerns, you should speak to an appropriately licensed professional.