End-of-Life Care Planning: 3 Conversations You Need to Have
For many seniors, planning end-of-life care decisions often feels frightening and overwhelming. But these discussions don't have to be stressful, and once you've had them, you might be glad you did.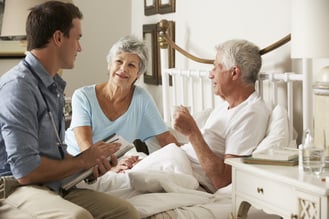 Before finalizing your end-of-life care plans, here are the three conversations you should have:
Talk To Your Loved Ones
Bring your family into the discussion early. Be open and honest about your current health, as well as your end-of-life wishes. Allow them to ask questions and share their concerns. If you need help getting the conversation started, read our list, "5 Questions to Ask During an End of Life Situation."
Talk to Your Healthcare Providers
Once you've reached decisions with your family, you'll need to share that information with your primary care doctor. Your physician may offer additional recommendations regarding your care plan. During your appointment, here are three questions you should ask:
"What can I expect from my current diagnosis? How will my health change over the course of the next year?"
"What healthcare options are available to me?"
"Will you please write this down for me so it can be shared with my family and care providers?"
Be sure to confirm that your provider has documented the conversation within your medical record.
Talk to Your Lawyer
After speaking with your family and healthcare provider, meet with a lawyer who can help prepare official documentation of your wishes. These documents, called advanced directives, will need to include a living will and healthcare power of attorney. Once you've received these papers, be sure to give copies to your family and primary care doctor.
Remember, it's never too early to start having these end-of-life conversations. Thoughtful planning will help to make these tough decisions a little easier for you and your loved ones.
At Cypress Hospice, we provide compassionate care that goes beyond traditional hospice services. Learn more about our unique difference and contact us with questions.
December 19, 2016
1 comments
Be the first to leave a comment
After submitting your comment, it will be reviewed before being posted here. Thank you!
Disclaimer: All content provided on this blog is for informational purposes only. This blog may provide general information and discussion about medicine, health and related subjects pertinent to our clients' interests. The owner of this blog makes no representations as to the accuracy or completeness of any information on this site. The words and discussion on this blog should not be construed as medical and/or legal advice. If you have specific medical or legal concerns, you should speak to an appropriately licensed professional.