Celebrating the Holidays with Aging Parents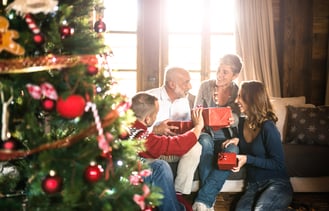 From carving the turkey to exchanging presents, every family has its own holiday traditions.
As their kids grow up, parents tend to take the lead during these celebrations — hanging decorations, preparing meals and entertaining guests. But eventually, these roles reverse and children begin to assume the hosting responsibilities.
This change can be challenging for aging parents and children alike, but understanding the emotional and physical concerns can help to ease the transition. Here are a few ways to be mindful this holiday season:
Carry on favorite family traditions. Whether it's exchanging pajamas on Christmas Eve or making a family recipe for dinner, these small gestures will continue to make the holidays special for you and your loved ones.
Host celebrations close to home whenever possible. Long-distance travel can be physically challenging for seniors, especially in unpredictable winter weather. If travel is unavoidable, make sure that transportation is both comfortable and affordable.
Manage holiday stress by setting a schedule for activities and social engagements. Many seniors develop routines that can be uprooted this time of year. Create a calendar that includes plenty of time for rest and relaxation.
Use this time together to have meaningful conversations about the future including health concerns and end-of-life wishes. Keep these discussions honest, open and free of judgement.
The holidays are an opportunity to create lasting memories with friends and family. No matter who is hosting your celebrations this year, remember to relax and enjoy the time spent together.
At Generations Healthcare, we provide support for our residents and their loved ones. Contact us to learn more about our independent and assisted living communities.
December 6, 2016
0 comments
Be the first to leave a comment
After submitting your comment, it will be reviewed before being posted here. Thank you!
Disclaimer: All content provided on this blog is for informational purposes only. This blog may provide general information and discussion about medicine, health and related subjects pertinent to our clients' interests. The owner of this blog makes no representations as to the accuracy or completeness of any information on this site. The words and discussion on this blog should not be construed as medical and/or legal advice. If you have specific medical or legal concerns, you should speak to an appropriately licensed professional.