5 Helpful Tips for Estate Planning
Life has been good to you, but now it's time to think about what you will leave behind for your loved ones. Have you set clear expectations for your estate? From appointing a single family member to oversee all arrangements to figuring out who gets that set of china, this blog offers helpful tips for seniors beginning the estate planning process.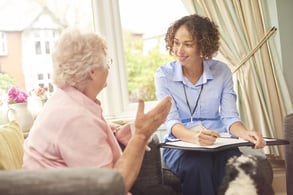 When it comes to distributing your assets, writing a will is the only way you can ensure everything will be assigned to family members and other beneficiaries according to your wishes. In addition to putting your requests on paper, you should also discuss your plans for items of sentimental value with your loved ones. This could help avoid misunderstandings and ensure that your most prized possessions go to the individuals you have in mind.
Plan ahead with loved ones
As you are planning the distribution of your assets, it is a good idea to create a list outlining where your important documents and assets are stored, and how to access them. These should include birth, marriage and death certificates, important financial records, and the names of your attorney, accountant and other advisers. This guide will help your beneficiaries better execute your final wishes.
Your executor is responsible for paying off your debts and distributing your assets in accordance with your will. It is a big responsibility, so it is important to identify your executor ahead of time, so they are able to adequately prepare. Your executor is likely to be your spouse or eldest child, but you may want to consider a professional executor, especially if you anticipate the settling of your estate to be a lengthy or complicated process.
To help ensure your estate planning goes as smoothly as possible, you may want to consider the assistance of experts from several fields. These could include an estate planning attorney to help with the creation of trusts and wills, a financial advisor specializing in estate planning and retirement accounts, as well as a power of attorney to help manage your final financial and legal affairs.
For your final celebration of life, be sure your loved ones have the information they need to carry out your carefully laid plans. If you include them in your will, your survivors may not be able to gain access from your lawyer or safe-deposit box in time. Make a separate list detailing your funeral and burial wishes, and give copies to your executor and other close loved ones.
Without an effective estate plan in place, your beneficiaries could be burdened with unwanted costs and conflicts. Help minimize the already difficult nature of saying goodbye with estate planning.
At Generations Healthcare, we are dedicated to providing guidance and support for our patients and their families. Contact us to learn more about our independent and assisted living communities.
December 12, 2016
4 comments
Be the first to leave a comment
After submitting your comment, it will be reviewed before being posted here. Thank you!
Disclaimer: All content provided on this blog is for informational purposes only. This blog may provide general information and discussion about medicine, health and related subjects pertinent to our clients' interests. The owner of this blog makes no representations as to the accuracy or completeness of any information on this site. The words and discussion on this blog should not be construed as medical and/or legal advice. If you have specific medical or legal concerns, you should speak to an appropriately licensed professional.