Decorating Tips for Assisted Living Residents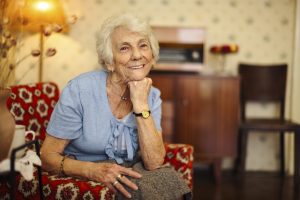 For many seniors moving into independent or assisted living, space may be limited, or room layouts may be very different from their former home or living arrangement. It's important that this new space reflects their own style and sense of home.
The bedroom
A comfortable bed is extremely important for people of all ages, but an added necessity for seniors is making sure it's easy to get in and out. That may mean making it a little higher than a normal bed. It's also important to have a nightstand with some storage space. Have enough dresser/drawer space in the room so a senior can avoid having to use the lowest levels for everyday items.
A few other things:
Layers on the bed are very important. Make sure there are plenty of sheets so seniors have the option of snuggling up or cooling off.
Stools and foot rests are a big help for seniors who are trying to put on a pair of shoes or step easily out of bed.
The living room
A comfortable chair is essential. Lift chairs are becoming more and more affordable and may be one of the best investments ever for senior citizens who are beginning to have some trouble getting up and down. Also essential next to this chair is an end table or drawer with more storage space for the TV remote, phone, notepad and more. You will want to make it warm and inviting for yourself and for family and friends who want to stop by.
A few other things:
Don't skimp on the TV. Many seniors spend a lot of time resting in bed or in their favorite chair. Don't make them squint to see their favorite shows!
Automatic light fixtures. Clappers may be passé, but it's relatively cheap and easy nowadays to put lights on a remote dimmer that can be controlled right from the comfort of a chair!
Bottom line: Comfort is king!
Space is precious, so don't let clutter turn it into a mess. Every piece of furniture should have a useful purpose. Keep aisles as wide as possible for ease of movement.
A few other things:
Plenty of pillows! Whether it's on the bed or on the couch, these offer plenty of options for making a resting senior as comfortable as possible.
Cheerful colors. Darker colors can be depressing. Spruce up the space with some bright colors in pillows and accessories.
At Generations, keeping our residents safe is our top priority. Contact us to learn more about our independent and assisted living communities.
June 13, 2016
0 comments
Be the first to leave a comment
After submitting your comment, it will be reviewed before being posted here. Thank you!
Disclaimer: All content provided on this blog is for informational purposes only. This blog may provide general information and discussion about medicine, health and related subjects pertinent to our clients' interests. The owner of this blog makes no representations as to the accuracy or completeness of any information on this site. The words and discussion on this blog should not be construed as medical and/or legal advice. If you have specific medical or legal concerns, you should speak to an appropriately licensed professional.