Dr. Seuss for President!
On Tuesday, March 2 Dr. Seuss would have been 112 years old! Normally, I don't give more than a passing nod to the day, but this year as I sat and watched the sound bites on the news from the potential nominees for this year's presidential election, I decided I'd rather write in Dr. Seuss for president. I learned so many important life lessons and found inspiration in his fun rhymes and silly illustrations. We're never too old to enjoy a few Dr. Seuss quotes:
"You have brains in your head. You have feet in your shoes. You can steer yourself any direction you choose."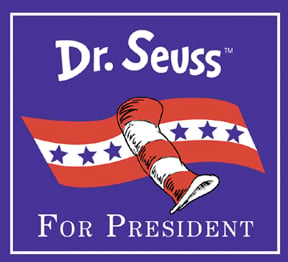 – Oh, the Places You'll Go! (1990)
"If you keep your eyes open enough, oh, the stuff you will learn! The most wonderful stuff!"
– I Can Read With My Eyes Shut! (1978)
"Unless someone like you cares a whole awful lot, nothing is going to get better. It's not."
– The Lorax (1971)
"From there to here, from here to there, funny things are everywhere."
– One Fish Two Fish Red Fish Blue Fish (1990)
"Look at me! Look at me now! It is fun to have fun, but you have to know how."
– The Cat in the Hat (1957)
"Think left and think right and think low and think high. Oh, the thinks you can think up if only you try!"
– Oh, the Thinks You Can Think! (1975)
"The more that you read, the more things you will know. The more that you learn, the more places you'll go."
– I Can Read With My Eyes Shut! (1978)
"And when things start to happen, don't worry. Don't stew. Just go right along. You'll start happening too!"
– Oh, the Places You'll Go! (1990)
"I do not like green eggs and ham. I do not like them, Sam-I-am."
– Green Eggs and Ham (1960)
"You're off to Great Places! Today is your day! Your mountain is waiting, so…get on your way!"
– Oh, the Places You'll Go (1990)
April 4, 2016
0 comments
Be the first to leave a comment
After submitting your comment, it will be reviewed before being posted here. Thank you!
Disclaimer: All content provided on this blog is for informational purposes only. This blog may provide general information and discussion about medicine, health and related subjects pertinent to our clients' interests. The owner of this blog makes no representations as to the accuracy or completeness of any information on this site. The words and discussion on this blog should not be construed as medical and/or legal advice. If you have specific medical or legal concerns, you should speak to an appropriately licensed professional.