Staying Safe at Home: Safety Tips for Seniors
For seniors, a fall or an accident in the home can have serious and lasting consequences. About 75 percent of home accidents for seniors involve a fall, and usually occur in the bathroom or the kitchen. Prevent falls and avoid injury with these helpful safety tips.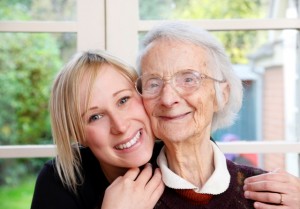 The best way to avoid accidents is to identify potential problem areas ahead of time. This can include any space that makes it more difficult for seniors to maneuver. Ask your loved one where he or she may have mobility limitations, such as on the stairs or in the bathroom, and plan accordingly.
It's important to come up with a plan of action after identifying problem areas. This could include adding a sturdy handrail on both sides of the stairs or improving the lighting by the front door. It's important to walk through each room to determine how safe each area is. Little updates, such as taping rugs to hardwood floors or adding lights to high traffic areas, can make a big difference when it comes to ensuring safety.
There are many ways to creatively make any living space safer. A solution to tripping over the coffee table could be as simple as rearranging the living room to accommodate more space, or just removing it from the room. Installing decorative wall sconces can help lead the way to the bathroom at night.
Simple changes, such as cleaning up clutter, moving hazardous power cords or keeping towels handy in case of spills can mean the difference between a safe space and a hazardous one.
It's also important to have a plan if a fall or accident happens. Be sure to have regular daily checkpoints with seniors who live on their own. Wearable devices that signal for help are also an option in case of emergency. Be sure to keep important phone numbers and prescription medication in an accessible place in case of an emergency.
At Generations, keeping our residents safe is our top priority. Contact us to learn more about our independent and assisted living communities.
March 21, 2016
0 comments
Be the first to leave a comment
After submitting your comment, it will be reviewed before being posted here. Thank you!
Disclaimer: All content provided on this blog is for informational purposes only. This blog may provide general information and discussion about medicine, health and related subjects pertinent to our clients' interests. The owner of this blog makes no representations as to the accuracy or completeness of any information on this site. The words and discussion on this blog should not be construed as medical and/or legal advice. If you have specific medical or legal concerns, you should speak to an appropriately licensed professional.