Seamus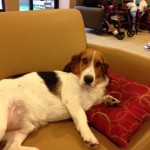 You might have seen this story going viral — the story of Seamus and one of our residents at Berea Lake Towers. We were so lucky to get to know Seamus and his family during their stay with us. Here's their story:
This dog.

My stepmother died August 1, 2012. I returned to Florida for the interment of her ashes October 19, and my 84 year-old father announced he wanted to get married again.

I gently suggested he wait, and try to get his sea legs back under him. Not make consequential decisions from the standpoint of lack. Continue reading…
February 22, 2016
0 comments
Be the first to leave a comment
After submitting your comment, it will be reviewed before being posted here. Thank you!
Disclaimer: All content provided on this blog is for informational purposes only. This blog may provide general information and discussion about medicine, health and related subjects pertinent to our clients' interests. The owner of this blog makes no representations as to the accuracy or completeness of any information on this site. The words and discussion on this blog should not be construed as medical and/or legal advice. If you have specific medical or legal concerns, you should speak to an appropriately licensed professional.