How Sweet the Sound
For most of us, music is viewed as entertainment, but for a loved one with Alzheimer's disease or dementia music can bring new meaning to life. Franklin Ridge Healthcare Center is excited to announce our involvement with Music and Memory™. This certified program offers those suffering from dementia or other cognitive impairments and their families the ability to reconnect with each other once again.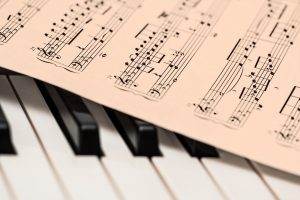 A personalized music playlist is developed with the family and, to the extent possible, with the person with cognitive impairment. This playlist reflects the music this person listened to and loved throughout childhood and adulthood. By playing these familiar tunes, the individual is often transformed to the place in time where the tune was first heard.
The results are more engaged residents, increased conversation with family, and a demeanor that is more at ease and relaxed as they enjoy the memories relived through this musical expression. The playlist is placed on an iPod Shuffle with use of headphones which allow for ease of use.
Since the program has begun at Franklin Ridge, we have seen firsthand how offering personalized music can provide a calm and soothing environment. As a result of this program, there has also been a decrease in the use of medications for anxiety and agitation further enhancing the quality of life for these individuals.
To learn more about Music and Memory™ visit www.musicandmemory.org. As we continue to expand the program Franklin Ridge Healthcare Center would welcome any donations of iPod Shuffles or iTunes gift cards. To learn more about how you can give the gift of music, please contact us:
Franklin Ridge Healthcare Center
421 Mission Lane
Franklin, Ohio 45005
Or contact the
Resident Life Coordinator at 937.746.3943
October 12, 2015
0 comments
Be the first to leave a comment
After submitting your comment, it will be reviewed before being posted here. Thank you!
Disclaimer: All content provided on this blog is for informational purposes only. This blog may provide general information and discussion about medicine, health and related subjects pertinent to our clients' interests. The owner of this blog makes no representations as to the accuracy or completeness of any information on this site. The words and discussion on this blog should not be construed as medical and/or legal advice. If you have specific medical or legal concerns, you should speak to an appropriately licensed professional.