The "Aging in Place Equals Good Quality of Life" Paradigm
If we are truly being honest with ourselves, we would all like to age gracefully and comfortably in our own homes. The thought of having to relocate to an environment that offers supportive services that we may need when we age is not appealing to us. It's human nature to desire our independence and we rightfully equate that to a great quality of life in which we thrive.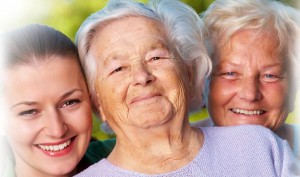 But can our desire to age in place or stay at home as long as physically possible compromise our independence? Let's consider a typical childhood in our homes. Our parents provided for us. Mom took care of us while Dad worked. They drove us around to all of our extra-curricular activities, fed and educated us. And when we grew up and started our own families, many of us were fortunate enough to have them as grandparents.
Mom and Dad had their independence and were needed. Now with age, they live in an "empty nest" and can no longer drive due to a physical or cognitive disability. So they no longer socialize with friends, as many of them are in the same situation. Some have even left us. As younger adults we can possibly provide a safe living environment in their homes and ensure that they have life's basic necessities. But what happens to the quality of their lives, especially if we lose a parent?
Though mom or dad is safe and comfortable, are they isolated? Do you now notice signs of depression? This can manifest itself in many ways, like not eating enough or forgetting to take critical medications. It's not uncommon for your loved one to tell you that they are happy and doing well, because it's what you want to hear, yet the warning signs are there.
Now consider what assisted living has to offer…a private apartment with restaurant style dining and supportive services such as laundry and housekeeping. Nursing is available to ensure medications are taken consistently and correctly. Activities and entertainment are readily available to keep seniors active both in mind and body.
And most important, the excellent quality of life you thought your loved one was getting at home is achieved through socialization with other residents who are their peers. Transportation is provided, so your mom and dad can go to the outings or events that they always used to enjoy! And you can go back to being family letting go of the stress of having to ensure your loved one's well-being.
A great quality of life is not defined by walls, but by living well!
Find out more about activities, supportive services, and social programs available in our active senior communities.
August 31, 2015
0 comments
Be the first to leave a comment
After submitting your comment, it will be reviewed before being posted here. Thank you!
Disclaimer: All content provided on this blog is for informational purposes only. This blog may provide general information and discussion about medicine, health and related subjects pertinent to our clients' interests. The owner of this blog makes no representations as to the accuracy or completeness of any information on this site. The words and discussion on this blog should not be construed as medical and/or legal advice. If you have specific medical or legal concerns, you should speak to an appropriately licensed professional.