Invest Back into Your Community…Then Show it off!
Oftentimes assisted living communities are hesitant to invest when it comes to upgrades. It is so important to invest capital back into your community to not only make it visually attractive but to also maintain a comfortable home for your residents. Most of the time, women ages 40-65 years old will visit your community looking to place a parent. It is important to appeal to that demographic with the overall appearance of your community and amenities such as computer labs and Wi-Fi throughout the setting.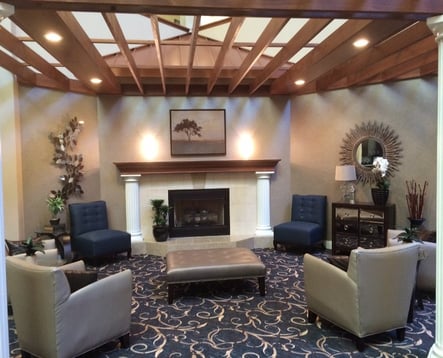 A facelift can include new carpeting throughout and an update to common rooms such as the library, game, exercise, computer and activity rooms with new furniture, décor and light fixtures.
Special little touches can include a gaming room that features a mahogany poker table, cabinetry to house all of the games and modern lighting fixtures. In the activity area consider including an updated kitchen for cooking, storage cabinets and extra room for art programs.
Generations Healthcare Management recently renovated one of our communities—Crystal Waters. Our one bedroom suites overlook the three-story atrium and new modern lighting fixtures can be found throughout the entire building. On the first level, a glorious cascading fountain welcomes guests and residents. The elegant space is very much like a family home with a formal dining room, living room with piano and fireplace and outdoor pergola-shaded gardens for relaxing.
When completing a renovation it is important for key healthcare professionals and community members to see the transformation of your community. Professionals will feel much more comfortable referring to a community that they have personally toured. Host an elegant Open House like ours and experience the Crystal Water difference by joining us on Thursday, May 7, 2015 from 4:00 – 6:30 PM.
April 13, 2015
0 comments
Be the first to leave a comment
After submitting your comment, it will be reviewed before being posted here. Thank you!
Disclaimer: All content provided on this blog is for informational purposes only. This blog may provide general information and discussion about medicine, health and related subjects pertinent to our clients' interests. The owner of this blog makes no representations as to the accuracy or completeness of any information on this site. The words and discussion on this blog should not be construed as medical and/or legal advice. If you have specific medical or legal concerns, you should speak to an appropriately licensed professional.