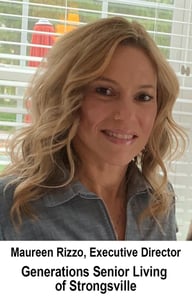 Generations Senior Living of Strongsville, a second-generation family-owned and operated senior living community, is pleased to announce Maureen Rizzo, LISW-S, LNHA as the new Executive Director. Maureen began her career as a social worker, working with seniors in 1998. Maureen soon found her calling in the field of geriatrics, advocating and supporting healthy aging within all realms of health care. She brings with her over 20 years of healthcare experience, Maureen has worked in hospitals, private practice, hospice and nursing facilities, wearing many "different hats". Maureen is a passionate leader devoted to the advocacy and compassion that is needed in serving the elderly.
Maureen graduated from The University of Akron with a BA in Fine and Applied Arts in 1998. She went onto obtain her master's degree in Social Work from Cleveland State University. Maureen graduated with honors from Cleveland State in 2007. She went on to complete the Core of Knowledge from The Ohio State University in 2013, and successfully passed Ohio and Federal board to obtain her LNHA license.
"We're excited to welcome Maureen to the Generations Senior Living family," said Phil Coury, Vice President at Generations Healthcare Management. "She has the passion, talent and experience to help us redefine senior living and ensure that the residents enjoy an active lifestyle and excellent quality of life. We know she will exceed all expectations and provide services with dignity and respect." Maureen lives with her family in Strongsville and is active in many community and school programs. Maureen enjoys spending her free time traveling with her family, being outdoors in her garden, or simply being with her two Chihuahuas, Roxy and Kate.
About Generations Senior Living;
We are proud to say we have been in business for over 50 years, providing exceptional care to our residents and families. Generations Senior Living of Berea and Strongsville offers seniors a dignified, individualized community where residents can thrive. The active senior communities provide Independent and Assisted living apartments in multiple floor plans, creating a continuum of care where residents can enjoy an active lifestyle and receive care when needed. Generations Senior Living of Strongsville is located on Pearl Road (across from Dairy Queen) at 18960 Falling Water Rd, Strongsville, OH 44256. Our sister-community Generations Senior Living of Berea is located (by Coe Lake and across from the police station and library) at 4 Berea Commons, Berea, OH 44017.
For more information, schedule a visit and luncheon with Amanda Champa at our Berea location or Kristen Kessler at our Strongsville location.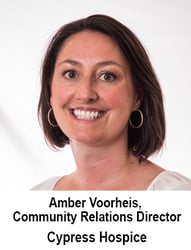 Congratulations Amber Voorheis for joining the Cypress Hospice Team:

Amber Voorheis, our former Executive Director at Generation Senior Living of Strongsville, will be staying with the Generations family to join our growing Cypress Hospice team, in the position of Community Relations Director. Cypress Hospice is located at 2 Berea Commons, Suite 1, Berea, OH 44017. To learn more about Cypress visit our website or contact Amber Voorheis.
We are so excited to see Amber's growth with us over the past 10 years, as our company has grown. As a family owned company, we are truly blessed and humbled by the commitment, dedication and longevity of our employees.