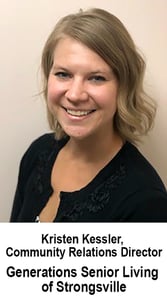 Generations Senior Living proudly welcomes Kristen Kessler, LNHA, CDP as Community Relations Director of Generations Senior Living in Strongsville, OH. Kristen brings over 15 years of sales and marketing experience in senior living with established healthcare providers. She brings expertise from different facets including: home care, assisted living, memory care and skilled nursing facilities. Kristen has a true passion in caring for seniors and helping families navigate the healthcare system. When not at work, Kristen enjoys being outdoors and spending time with her husband and two daughters.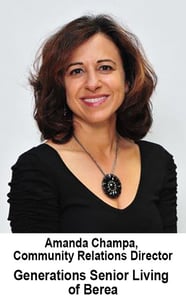 Amanda Champa, CDP joined the Generations family nearly 5 years ago, taking on the role of Community Relations Director for both Generations Senior Living of Berea and Strongsville. She will now be transitioning to the full-time Community Relations Director at our Berea location. Amanda puts her heart into providing residents and their families with the guidance and information they need to help support them as they move to their new home.
Amanda says, "It is an honor to see a new resident become a cherished loved one to staff and other residents. I believe the unique culture of the Generations family makes it possible." When she's not working, Amanda enjoys spending time with her husband, and their boys, especially as a volunteer for kid's various sports activities.
"Kristen and Amanda both bring a joyful and knowledgeable resource to our profession. They both have steadfast convictions, contagious spirit, and can-do attitudes that provide family members peace of mind." says Phil Coury, Vice President for Generations Healthcare Management.
We are proud to have been in business for over 50 years, providing exceptional care to our residents and families. Generations Senior Living of Berea and Strongsville offer seniors a dignified, individualized community where they can thrive. The active senior communities provide Independent and Assisted living apartments in multiple floor plans, creating a continuum of care where residents can enjoy an active lifestyle and receive care when needed. Generations Senior Living of Strongsville is located on Pearl Road (across from Dairy Queen) at 18960 Falling Water Rd, Strongsville, OH 44256. Our sister-community Generations Senior Living of Berea is located (by Coe Lake and across from the police station and library) at 4 Berea Commons, Berea, OH 44017.
For more information, schedule a visit and luncheon with Amanda Champa at our Berea location or Kristen Kessler at our Strongsville location.