How to Talk About Hospice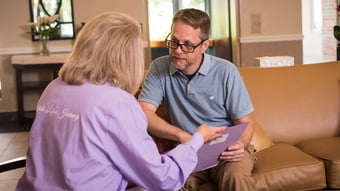 For most people, there are few conversations more difficult than the ones surrounding end of life. Fear often surrounds this process: that either talking about death will hasten its arrival, or that taking the time to talk about it will bring sadness and negativity instead of peace and joy.
While sadness will likely be one of the emotions experienced in these conversations (it is hard to talk about this subject without some amount of sadness or loss), negativity does not have to be part of the conversation. In fact, we've found that our patients and their families who make a point to talk about end of life often make room for more happiness, joy and celebration of life.
Starting the Conversation
Dr. Atul Gawande, an expert on aging and living fully and author of the book, Being Mortal, recommends five questions to ask both of yourself and your doctor. We also think they are a great starting point for conversation with your family and loved ones as well. They are:
What is my/your understanding of my/your health and condition?
What are my/your goals if my/your health worsens?
What are my/your fears?
What are the trade-offs I/you are willing to make and not make?
What would a good day look like?
These questions are helpful because they allow for the frank, open talk about how you want to live your final days. You don't have to discuss all questions at once. They can be used as a guide along your journey.
Talking it Out
Dr. Gawande's questions are a great starting point, but they don't have to be the only questions you ask. We also like simply asking, "What do you want your last days to look and feel like?"
A few other tips:
Don't rush the conversation. The first approach to this topic and subsequent questions may open doors to other conversations that need more than just an hour or two to discuss. And, if you feel good talking about it one day, but uncomfortable the next, that's okay, too. Go at your or your loved one's pace.
Don't be afraid of the feelings that these conversations may produce. You might feel sad, anxious, relieved, incredulous or even fearful. You also might find that your loved one has wishes that surprise, delight or confuse you. Whatever you're feeling, make sure to voice these feelings. When you say, "I feel scared to talk about this, and it might influence my conversation," this a productive way to help your loved one understand you better.
If you've started discussing end of life, ask if it's okay if you talk about what life will be like when you or your loved one is no longer present. You may even want to discuss how you'd like things to be when you're gone, even if it's small. For example, maybe you want to designate a family member to carry on a holiday or family tradition (e.g. carving the Thanksgiving turkey or baking a special cake for birthdays).
No matter how you choose to discuss end of life, remember that there is no perfect way to do it. Just do your best to approach it with a lot of love and patience; you might even find that this discussion brings you even closer together.
Support for the whole family
We believe in supporting the patient and their loved ones throughout the hospice experience.